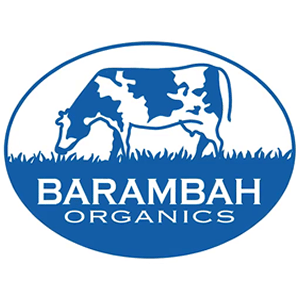 Barambah Organics began in 2002 after Ian Campbell converted his fourth generation family farm, "Spring Creek" in 1999 to organic status with Australian Certified Organic. The family has been farming at "Spring Creek" since 1912. The farming operation moved to the Border Rivers Region of NSW/QLD in 2006 in order to secure access to reliable water. This has been an excellent move for Barambah Organics and the cows are thriving in this location.
Barambah produced its first bottle of milk in March  2002. There were eight stores and around fifty homes that were ready to take the milk, bottled in glass. Some of those stores are still taking our product today, like Rosalie Foodstore and Plenty Deli at Eight Mile Plains. There are now close to 800 stores around Australia who are stocking Barambah products.
Barambah has an excellent team in place, who have been working with us for many years. Barambah has achieved both international and national dairy awards and is now successfully exporting to a number of countries.